Extra School @ Hill Grange

Outside the classroom too, Gill Grange offers a whole new experience.
Recreation facilities that interest today's children.
Health, fitness and outdoor activities.
A mix of tradition and modern extra-curricular activities that promote all-round development.
Self-reliance and independence through gaining practical knowledge of routine chores...and much more.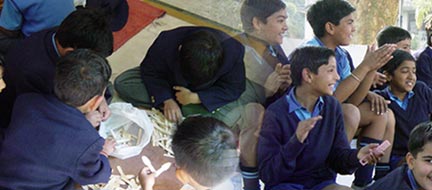 Music
Music is a compulsory activity for all students in order to inculcate appreciation for music of all forms. Students are encouraged to take up any instrument of choice ( Western or Indian ) or singing. Students not inclined towards any particular instrument would be taught Music Appreciation ad subject. This subject spans history of Music, Comparative studies of different forms of music and Histories of Famous Musicians.
Students are taken to concerts on weekends as an incentive and off-site learning experience.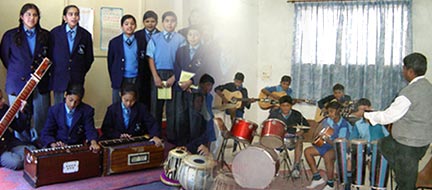 Theatre and Drama
Drama classes originally commence with play readings, and viewing of famous theatrical productions. Dramatics as a compulsory activity is tied in with Music lessons while working on in-house productions.
Drama Clubs are encouraged, and play readings held over the weekends. This gets even the non-actors involved and interested. On a regular basis though, two hours a week are set apart for this activity.
This activity is aimed at building the students' communication skills and to help them gain self-confidence and over come stage fear. Voice it Sessions take the form of debates, prepared and unprepared talk, group discussions and poetry recitation. Once a term this forum is used to review Disciplinary rules.
Art
A well equipped Art Room encourages children to produce interesting and varied art and design work. They are presented with a wide range of media and techniques to develop their confidence and skills in areas such as drawing, painting, pottery, model making and sculpture.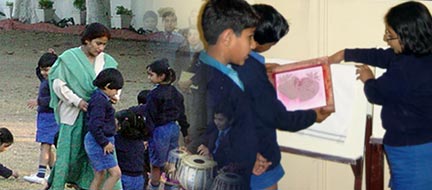 Needle Work
A compulsory activity, this teaches students a certain level of self-sufficiency and independence. Projects are in the form of simple piece of work (say sewing a button, darning a tear on his shirt/ trouser).
First Aid
Every student is taught a working knowledge of first aid, with credits being given for those found applying their knowledge in daily situations.

All Right Reserved to HPS, Dehra Dun, Webmasters: www.sdtconsultants.com